Top Trends That Will Pay Off for ERP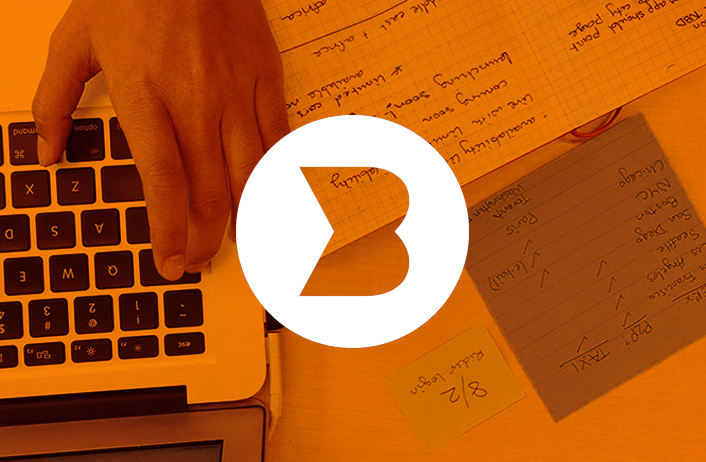 The traditional world of ERP no longer exists, according to Gartner's recently published Hype Cycle for ERP, 2015. Instead, CIOs and IT managers are opting for a more flexible, variably-sourced model that combines the solutions of multiple applications to accomplish what a single ERP vendor has historically provided.
This is a trend that Bayforce has noticed within our customer base – customers that used to exclusively require SAP resources have been asking more and more about our non-SAP solutions. But while we've known it anecdotally, this white paper is helpful in identifying the trends and technologies that will most affect ERP in the next two to five years.  Below we highlight our top 5 takeaways.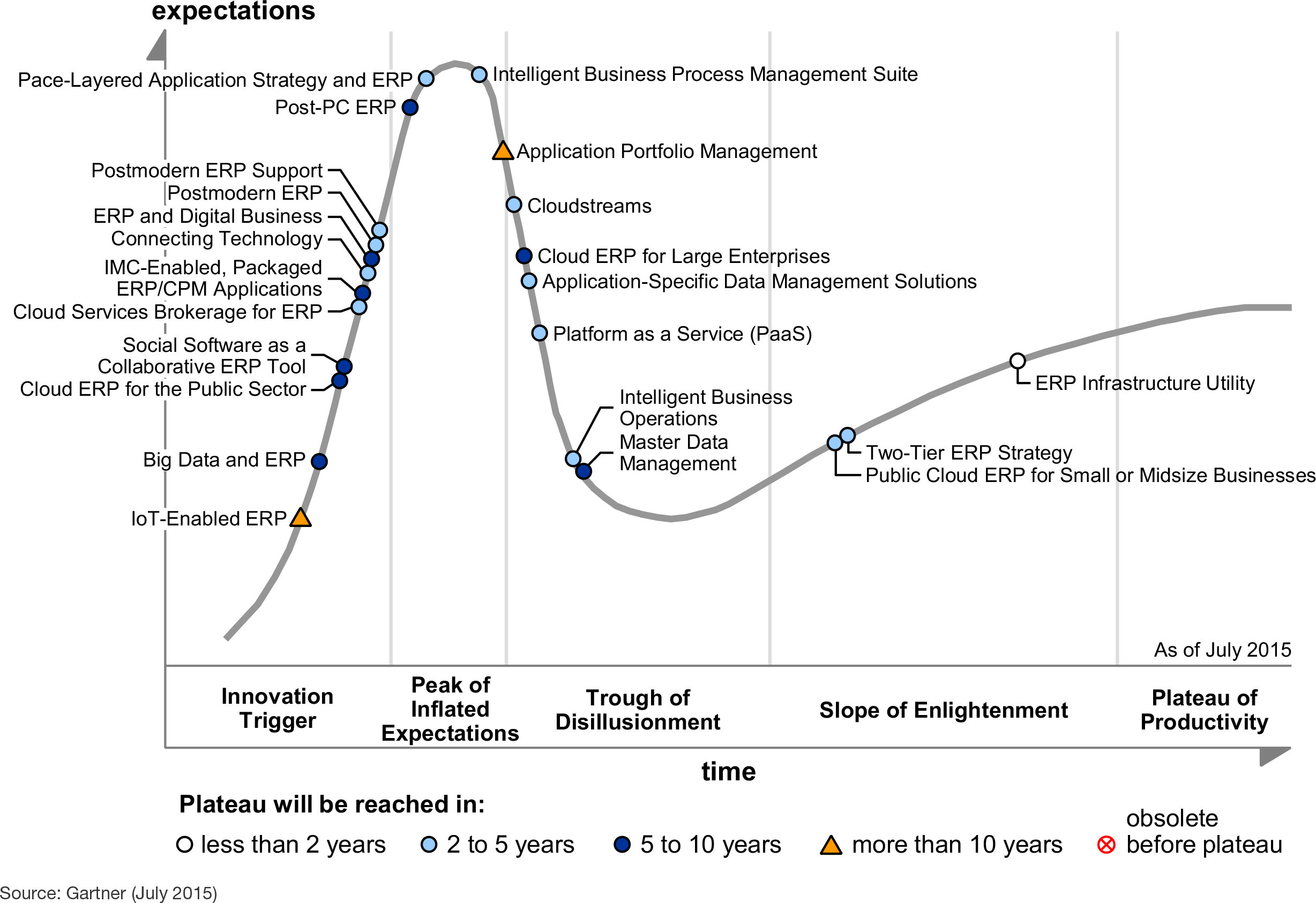 Download the full white paper to:
Learn which trends and technologies are considered "transformational."
Establish your adoption timeline based on technology maturity and market penetration.
Analyze adoption speed justification and advice of current users.
1. Postmodern ERP will be Transformational
Postmodern ERP is the term that Gartner has coined to reference the deconstruction of suite-centric ERP strategies into connected applications (domain suites or smaller footprint applications) that are prioritized by functional need and agility over IT architecture, single-vendor strategies or ease of IT management.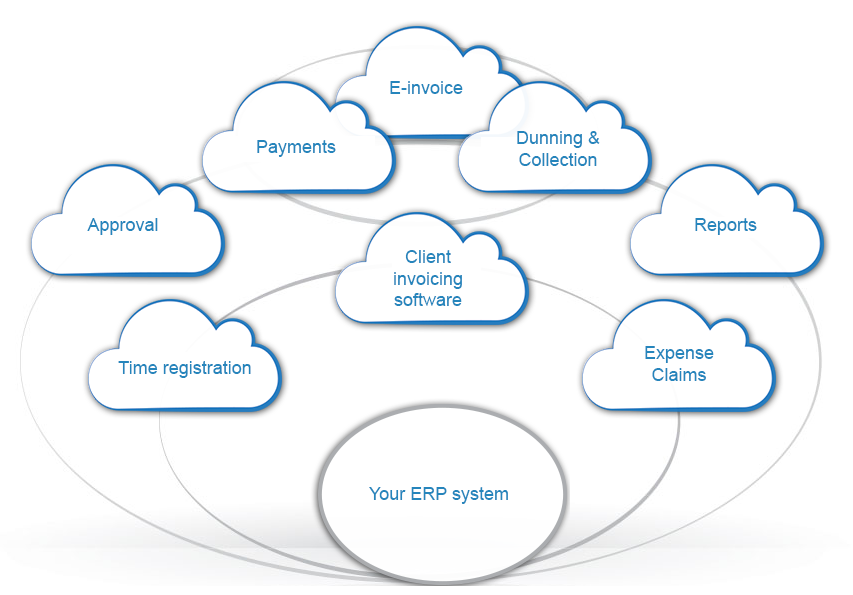 The proliferation of cloud-based applications and growing dissatisfaction with large ERP vendors' typical license, maintenance, support fees and models has led to adoption of postmodern ERP strategies. However, we still have two to five years before we'll see full postmodern ERP adoption due to the significant investments that have been made in on-premises ERP.
Once adoption does become reality, organizations will need to shift their focus from system maintenance to vendor relationship management. It will also have a major impact on the way organizations plan for, deploy and manage major applications. It has great potential to make organizations more digital and increase user engagement, but it must be carefully managed in order to control costs and integration.
2. Expectations are High for Pace-Layered Application Strategies
This strategy categorizes applications into three layers – system of record, differentiation and innovation – in order to enable the organization to build a more balanced portfolio of primary applications provided by strategic ERP vendors, complemented by specific applications from best-in-class specialist vendors.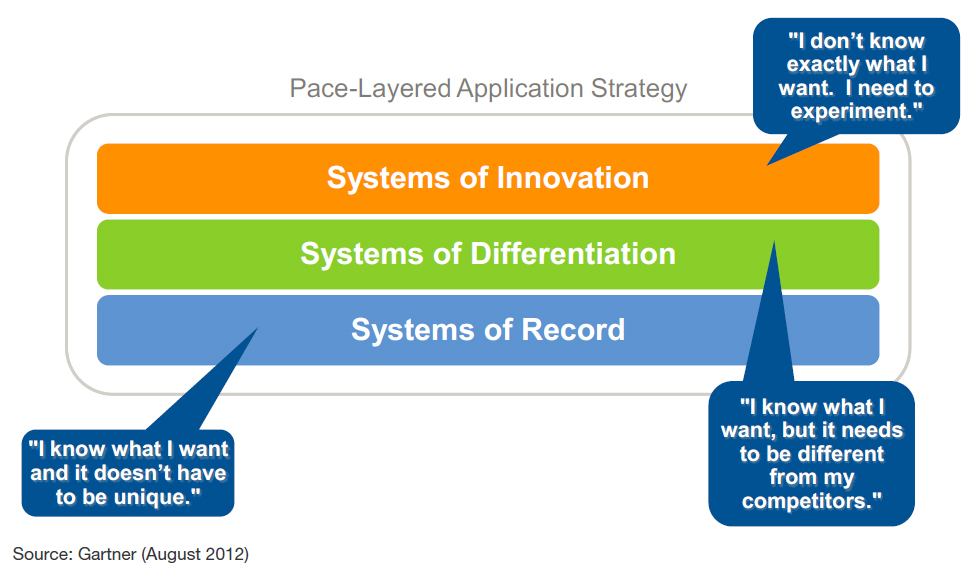 The concept is gaining popularity, particularly among businesses that are already redesigning their ERP strategy due to other market pressures, such as shifts toward a digital business strategy or the need to renovate/replace an aging ERP.
One main benefit is that it has the potential to elevate the conversation between business groups and IT to focus on business impact of technology, making it easier for IT to deliver the proper solution to the business group and avoid "shadow IT." The other main benefit is that IT organizations will have the framework required to identify which business needs are changing most rapidly, thus identifying which applications need to change with them. This will enable greater agility and optimize business impact and outcomes.
Learn how to optimize your SAP investment using pace layering.
3. We Have More Time to Figure Out Big Data
Big Data – the quick and agile analysis of enormous sets of data that demands cost-effective, innovative forms of information processing – has been one of the biggest buzz topics in the industry this year. It also represents a significant departure from the predictable, structured data model that has typically applied to ERP.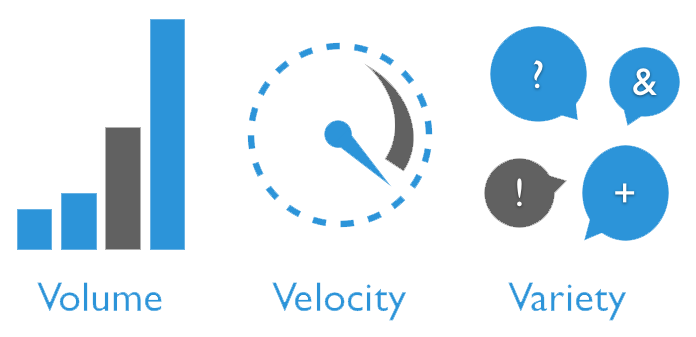 For this reason, the convergence of Big Data and ERP has remained in its early stages, giving us more time to figure out exactly what business questions we plan to answer with all our big data. However, even if full adoption is a ways off yet (think five to ten years), it's important for us to analyze our needs now since the architecture changes we make between now and then will affect our big data abilities in the future.
The major benefit of big data is that it could transform data-intensive business processes that require heavy planning, simulation and analytical calculations, such as MRP, cash and inventory forecasting and profitability analysis. It could also support emerging processes, like Internet of Things data analysis. However, first businesses need to decide what they need to know from their data and how they will use this information to improve their business.
4. Benefits of an Intelligent Business Process Management Suite (iBPMS) are High
An Intelligent Business Process Management Suite (iBPMS) is a set of technologies that allows for enhanced collaboration, integration with social media, mobile and cloud access to business processes, more analytics and real-time decision management. It essentially supports the full lifecycle of business process development, from modeling through optimization.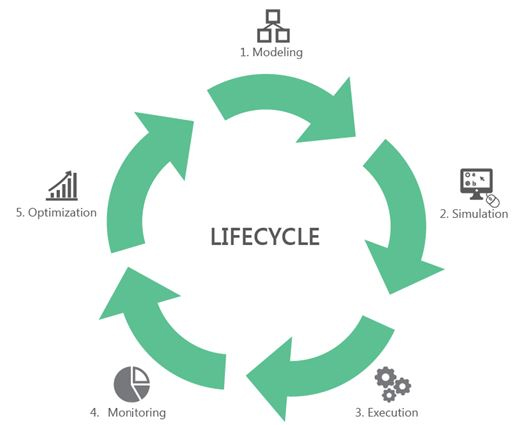 An iBPMS strategy makes the business process itself, as well as work within the process, visible and adaptable with accountability for all changes by recording all event-state information. It also shifts process management responsibility back to business process owners (rather than the IT organization having exclusive change control rights) by enabling designated business roles to more directly change a process design.
This approach to cross-functional business process coordination can transform the way organizations work by impacting culture and management approaches.
5. Platform as a Service (PaaS) Should Be Part of Your Strategy… Today
PaaS, cloud services for application infrastructure capabilities, has been surrounded by confusion and controversy in the past. And while the industry isn't fully onboard yet and there is still some maturity that needs to take place, Gartner believes there has been enough success in the area of PaaS that it should be a major focus for organizations over the next two years.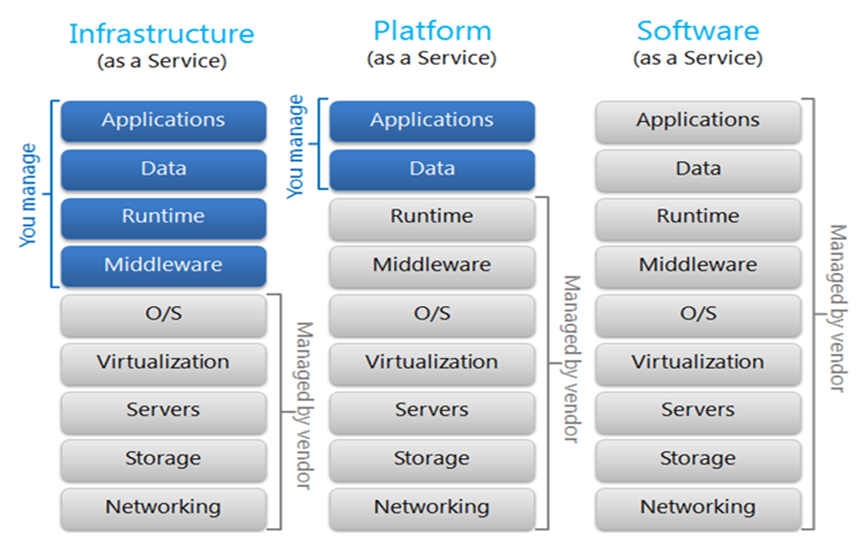 The transition of software engineering from custom-made application infrastructures to shared and optimized cloud platforms creates greater efficiencies, accountability, agility, innovation and competitiveness to the business. This involves more than just the technology; it includes the organization of IT investments and operations to support more agile business and technology environments.
As public PaaS matures, more cloud-native solutions can be built that are only available in the cloud. This will cement the prevalence of cloud computing in the enterprise mainstream and make PaaS a necessity for any organization looking to stay competitive.
About Bayforce
Bayforce is a full-service IT consulting firm focused on SAP and Salesforce solutions. Since 1996 we have been dedicated to ensuring our clients' projects are delivered on-time and on-budget, helping them find the best talent, and maximizing their enterprise technology investments. We service clients across North America in every industry ranging in size from the Midmarket to the Fortune 100 with the very best U.S.-based talent and an unparalleled level of quality and attention.
Being a boutique firm with offices in Chicago, IL and Tampa, FL has allowed us to adapt to our customers ever-changing needs and provide a level of care and quality of service that simply cannot be matched.
Click here to learn more or contact us!
Related Articles