5 Critical Requirements for Intelligent Spend Management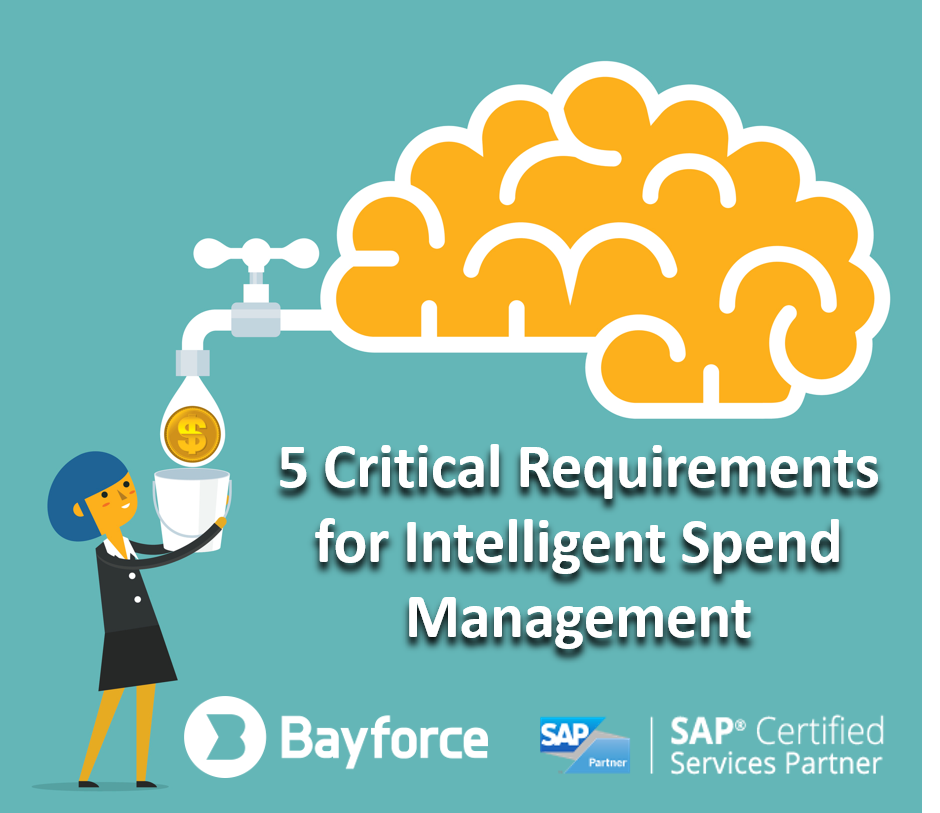 Your organization collects a plethora of data with every procurement and supply chain transaction.
SAP Ariba Intelligent Spend Management helps you understand and optimize it. This is the difference between information and intelligence—and what differentiates Intelligent Spend Management.
Check out these 5 critical requirements for Intelligent Spend Management introduced by SAP:
1. Manage data with a nimble approach
In order to manage spend, your systems need to interact with data from business processes, social sources, suppliers, and many other areas. This requires a new approach. SAP solutions will access data from any source, but the data stays where it is, and the system:
— Knows how to identify and manage it
— Automatically improves and enhances it
— Puts it to work instantly when and where you need it
2. Embed intelligence from end to end
SAP is investing in technologies like AI, ML, and blockchain in order to infuse intelligence across the entire source-to-pay process. Disconnected, siloed solutions only learn from the parts of the process they manage.
SAP Ariba solutions use data and results from each step to continually refine and improve the rest of the process.
— Expanded visibility allows you to see the whole picture, so you can make smarter choices at every decision point.
— With an intelligent suite that manages it all, you're equipped to more effectively capitalize on new innovations that can optimize efficiency and outcomes.
3. Connect across your organization
The process of managing spend touches many other parts of your business, including your core financial, manufacturing and supply chain, human resources, sales, and marketing processes and systems.
That's why SAP Ariba solutions integrate with the digital core of SAP S/4HANA® as well as the rest of the SAP intelligent enterprise suite in areas such as manufacturing and supply chain.
4. Reach beyond your four walls
The data affecting procurement and supply chain processes doesn't all sit within your organization. It comes directly from suppliers and vendors as well as any number of other sources and systems.
Through Ariba Network—the largest business-to-business network on the planet—and a host of SAP Ariba APIs, you can continuously build a more diverse, holistic data set.
5. Customize with easy extensions and enhancements
To address unique regulatory requirements, you need to be able to tailor and enhance your solutions quickly and easily.
SAP's open architecture, APIs, and partner ecosystem of solution developers provide a safe, secure way to customize your solutions so you can better control spend, allowing you to:
— Access data from a wide range of sources
— Connect to targeted third-party solutions
— Easily build your own extensions and functionality
— Integrate with proprietary systems you have in place
Why Bayforce?
As certified SAP partners, with over 20 years of experience, Bayforce consultants' exceptional breadth of experience across SAP products lead to consistently optimal results for our clients, including some of the world's largest and most complex organizations as well as niche players—and we do so with the level of personal, responsive service larger organizations too often fail to provide. Ensure your SAP Ariba project delivers to your expectations by calibrating the right level of expertise and support.
Let's talk about your roadmap to Intelligent Spend Management.