How to Implement and Optimize SAP Transportation Management
By: Bayforce Posted: May 18, 2020 Category:
SAP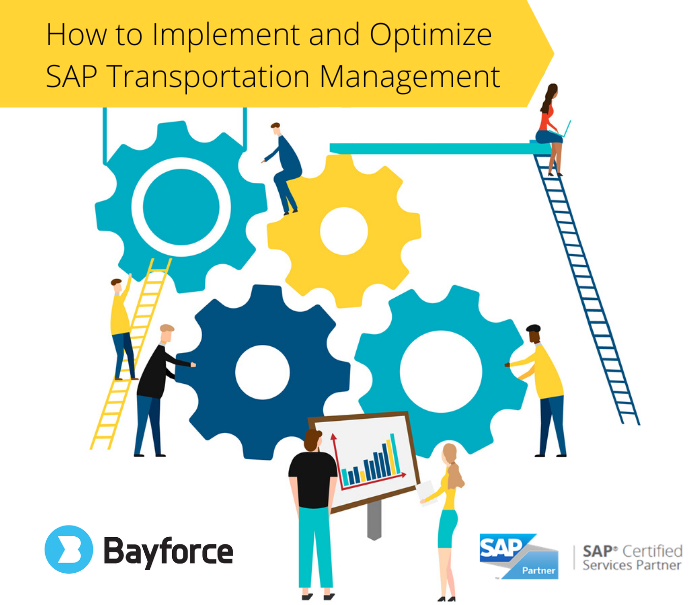 A surge in e-commerce, combined with customers' continued expectations for rapid and accurate delivery, means that logistics management will only grow more complex in the coming months.
SAP Transportation Management (TM) helps consolidate orders, maximize the return on transportation spend, forecast demand and shipment volumes accurately to fine-tune transportation planning and gain real-time visibility.
While SAP TM allows out-of-the-box B2B connectivity with carriers, optimizing it requires expertise in dealing with business and logistics processes and an array of SAP products. That's where Bayforce expertise comes in.
Understand how SAP TM works, what it is — and what it isn't

SAP TM is specifically and uniquely designed for the transportation and logistic requirements of all industries. A stand-alone system from SAP ERP, SAP TM requires separate installation and training from other SAP product offerings. It covers all modes of transport (ocean, air, road and rail) and can be integrated with other systems to offer a unified approach to resource management.
Clarify your company's needs

The SAP TM module can help your firm in several ways, including:
Creating freight bookings
Transferring orders and deliveries from an ERP system
Recommending optimal routes to reduce costs and delivery times
Utilizing shipping data to generate preferred carriers that are most likely to be on-time and cost-effective
Tracking transport in real-time
Factoring in foreign trade and dangerous goods regulations to optimization calculations
Compiling all shipments and orders into a single consolidated system
Identifying existing redundancies or bottlenecks within your firm's current operational capabilities will ensure that SAP TM is implemented in a way that will create the most significant and immediate savings for your business.
Implementation Strategies

Implementing an SAP system and integrating multiple SAP technologies can be complex, but help can usually be acquired through SAP or an SAP-knowledgeable partner.
There are a few ways that your organization can handle a migration: rolling over old data into the SAP ERP through manual entries or imports, entering new data into the new solution, or running both solutions simultaneously. Firms with no data available can start fresh with SAP ERP. Training should occur before implementation, so all employees are familiar with the new solution.
Business processes must be designed around SAP to ensure that employees are following the correct best practices and entering data regularly.
Bring in the experts

Bayforce is a certified SAP service partner with one of the largest SAP consultant networks in the United States achieving consistently optimal results for clients from complex global groups to niche players. As a partner on your next SAP project, Bayforce can:
Quickly deliver the resources your organization needs
Provide thought leaders to deliver best practices
Bundle services: project teams, staff augmentation, direct hire
Offer proactive and creative solutions
Keep your project on time and on budget
To make an impact in any industry, your business will be reliant first and foremost on efficient logistic management. Tightening these logistics, whittling down costs and generating higher ROAs will be critical for any business to succeed — and even just to remain viable — in uncertain times and a contracting economy.
Ensure your SAP TM project delivers to your expectations by tapping into Bayforce's exceptional breadth and depth of experience across SAP products.
Let's talk about your roadmap to transportation and logistics management today.