SAP S/4HANA Cloud, On-premise or Hybrid? How to Improve your Migration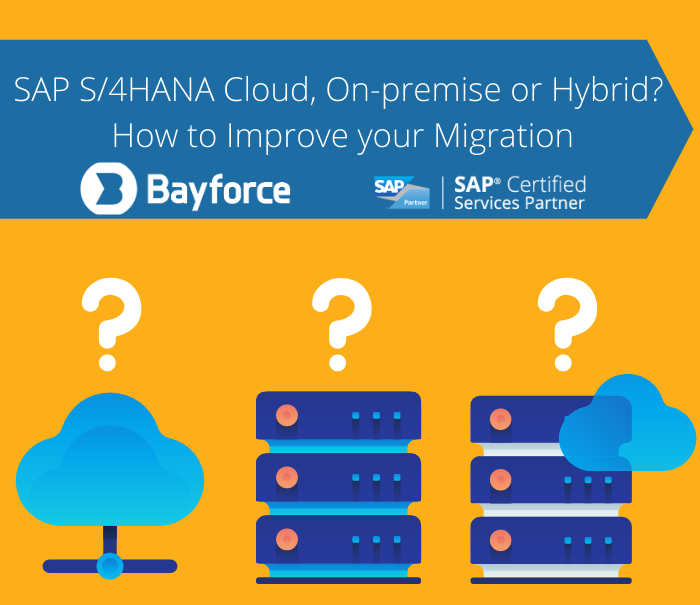 SAP has announced that by 2025 they will no longer support the current SAP platform and all its customers will have to move towards SAP HANA. The new application from the house of SAP allows users to use in-memory database technology which enables the application to process massive amounts of data in real-time.
When making the move to SAP S/4HANA, your organization has three primary delivery methods to choose from, all of which require intricate under-the-hood technical expertise to implement:
On-premise
This edition of S/4HANA is an internal platform located on your firm's servers, maintained by your company. It utilizes traditional licensing and presents a lower upfront cost, with annual updates that must be manually implemented and tested by your team. Your organization should consider on-premise if you: 
Prefer maximum control
Desire a full range of functionality that is highly customizable to meet unique business requirements
Don't require or rely on external IT support
In the cloud
 S/4HANA Cloud is hosted on SAP's servers and maintained by SAP, with automatic quarterly updates — perfect for organizations prioritizing rapid innovation cycles. However, S/4HANA Cloud has limited functionality, focusing instead on a number of core capabilities. This delivery method works best for firms that:
Do not wish to invest in internal IT capabilities
Are rapidly developing enterprises requiring an agile, highly scalable solution
Desire a light and flexible database platform
Can redesign processes to fit with a template-based solution
Hybrid
For organizations that want flexible IT solutions and innovation of core business applications, the SAP S/4HANA hybrid model may be optimal — for example, firms may utilize an on-premise edition at company headquarters and a cloud-based solution at satellite offices. When implemented correctly, this approach can allow for rapid business transformation with reduced initial cost. 
Selecting the correct delivery platform is critical to generate your organization's return on investment and implement a migration that best fits your existing needs and constraints.
How to Improve Your Migration to S/4 HANA: Choose Bayforce
Before deciding the migration strategy, we recommend that you analyze your business needs and determine the correct migration approach.
If you choose cloud deployment, organizations can take advantage of SAP's private cloud offering known as SAP HANA enterprise cloud. The platform comes with SAP HANA software license, foundational cloud infrastructure and an array of SAP cloud services.
With an on-site deployment strategy, organizations can choose a certified SAP HANA appliance which can be installed by an SAP hardware partner.
Regardless of your organization's selection, migrating to SAP S/4HANA is not a simple project, but a complex technical matter that will require significant time, resources and expertise. That's where Bayforce comes in.
Bayforce is a certified SAP service partner with one of the largest SAP consultant networks in the United States achieving consistently optimal results for clients from complex global groups to niche players. As a partner on your next SAP project, Bayforce can:
Quickly deliver the resources your organization needs
Provide thought leaders to deliver best practices
Bundle services: project teams, staff augmentation, direct hire
Offer proactive and creative solutions
Keep your project on time and on budget
Make the right choice for your organization's continued success and ensure your S/4HANA migration delivers to your expectations with Bayforce's team of industry-leading experts.
Let's talk about your roadmap to S/4HANA enterprise management today.