Why Implement SAP Global Trade Services? Top 3 Benefits
By: Bayforce Posted: June 2, 2020 Category:
SAP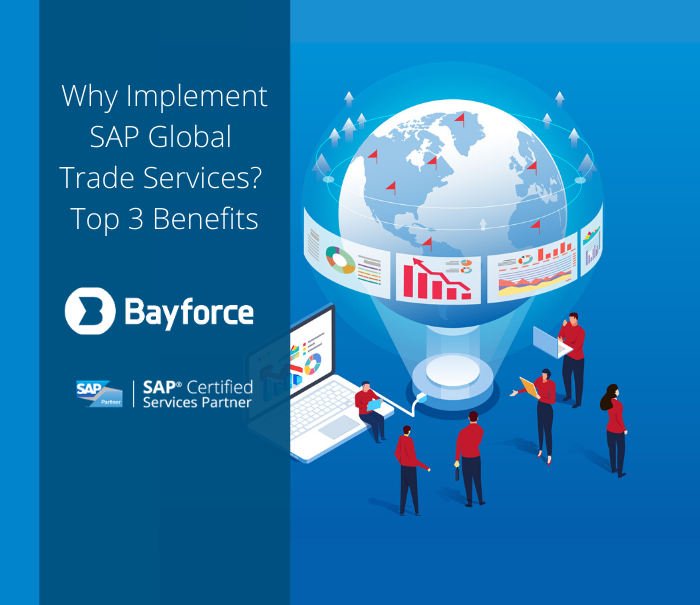 Global trade policy and regulatory frameworks are under intense scrutiny with historic changes proposed or in process. To navigate and plan for potential regulatory changes of this magnitude, global entities require scalable global trade management systems to enable compliant operations.
SAP Global Trade Services (GTS) is designed to help organizations streamline complex trade processes and compliance while cutting costs and accelerating cross-border supply chains. Here are just 3 of the top benefits your organization gains from an optimized SAP GTS implementation:
1) Automate Compliance
It's essential that your firm operates in compliance with the intricate international web of local and regional regulations without under-paying, over-paying or wasting valuable resources. SAP GTS automates your firm's compliance processes to eliminate manual error and accelerate international trade transactions, while also avoiding penalties and fines.

2) Boost Efficiency
Automating your firm's import and export processes reduces costly errors and maintenance, in addition to minimizing costs — while ensuring your goods are delivered on-time across borders. SAP GTS allows your firm to centralize and manage trade transactions and documents, and can be integrated with SAP TM for end-to-end supply chain visibility, domestically and internationally.
Accelerate your global supply chain and maximize efficiencies by:
Optimizing inventory and preventing delivery delays
Communicating directly with customs authorities
Leveraging existing trade agreements
Reducing compliance costs
Providing visibility of goods in-transit
3) Manage Risk
Screen vendors and potential partners with SAP GTS and prevent your organization from doing business with blacklisted parties or other undesirable entities, such as embargoed countries. Additionally, SAP GTS works to manage the inherent risk of international trade through:
Preference Processing: Support your firm in fulfilling legal requirements for customs preferences and identify exported goods as eligible for preferential treatment. This eligibility allows customers to import your firm's goods duty-free or at a reduced rate, providing a decisive competitive advantage.
Letter of Credit Processing: Mitigate the financial risks of global trade by consolidating and categorizing letters of credit. Integrate bank, document and delivery data for precise management of transactions.
Restitution: Ensure that all the requirements for requesting and approving restitution payments are met while minimizing the risk of loss for securities and export licenses.
Bring in Bayforce to Achieve the Benefits

Bayforce is a certified SAP service partner with one of the largest SAP consultant networks in the United States achieving consistently optimal results for clients from complex global groups to niche players. As a partner on your SAP GTS project, Bayforce can:
Provide thought leaders to deliver best practices
Bundle services: project teams, staff augmentation, direct hire
Offer proactive and creative solutions
Keep your project on time and on budget
To make an impact in any industry, your business will be reliant first and foremost on efficient logistic management. Tightening these logistics, whittling down costs and generating higher ROAs will be critical for any business to succeed — and even just to remain viable — in uncertain times and a contracting economy.
Ensure you're the success of your SAP GTS project by tapping into Bayforce's exceptional breadth and depth of experience across SAP products. Let's talk about your roadmap to transportation and logistics management today.