Why Mid-Sized Companies Choose SAP Ariba
By: Bayforce Posted: June 11, 2020 Category:
SAP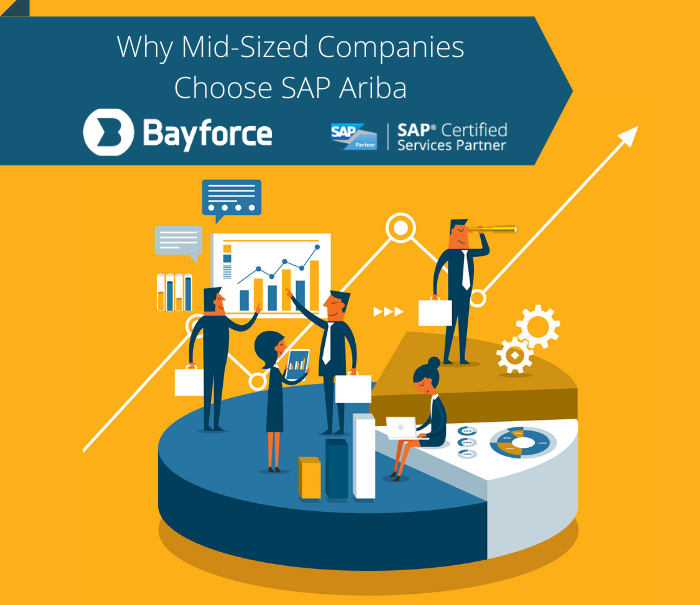 By 2024, 50 percent of organizations will have near-real-time procurement analytics — how will your firm utilize analytics to get ahead?
Hyper-automation, interconnected supplier networks and a crucial need for real-time analytics are poised to revolutionize procurement activities — as a recent report from Gartner illustrates in-depth.
Adapting to these shifting tides will be critical—and it presents an opportunity to level the playing field for mid-sized companies that adopt SAP Ariba.
By implementing SAP Ariba, firms have an out-of-the-box, comprehensive solution that functions as a singular source-to-settle network and provides an avenue to responsible, sustainable sourcing and recruitment. But what makes it such a good fit for mid-sized organizations — especially as the business world looks ahead to a shifting procurement landscape?
It allows for the integration of multiple supplier systems. In less than four years, 20 percent of buyers will use a shared, permissioned supplier network to improve the agility and flexibility of their sourcing — and organizations will be unable to compete in the digital world without a dynamic supply base. Utilizing SAP's extensive B2B network, your firm can work to foster flexible sourcing options.
It supports critical real-time data collection. Real-time analytics have become imperative due to the increased pace of operations and a rapidly changing market. SAP Ariba allows firms to manage data with a nimble approach by identifying and automatically enhancing data from business processes, social sources, suppliers, and many other areas. Your firm must implement the analysis of this real-time data to foster agile decision-making, and continue building a foundation of better buying practices.
It adapts to your ongoing growth. Just as SAP Ariba evolves past maturing technologies like robotic process automation, it adapts to the continual growth of your business. SAP is already investing in technologies that will shape the future of procurement — ensuring that your firm receives the most up-to-date services.
SAP Ariba provides organizations with a comprehensive, source-to-settle buying solution — but mid-sized firms must leverage their procurement and spend management as not just an operational efficiency, but a growth opportunity.
Bring in Bayforce to Achieve the Benefits of SAP Ariba
Bayforce is a certified SAP service partner with one of the largest SAP consultant networks in the United States achieving consistently optimal results for clients from complex global groups to niche players. As a partner on your SAP Ariba project, Bayforce can:
Provide thought leaders to deliver best practices
Bundle services: project teams, staff augmentation, direct hire
Offer proactive and creative solutions
Keep your project on time and on budget
To make an impact in any industry, your business will be reliant first and foremost on efficient logistic management. Tightening these logistics, whittling down costs and generating higher ROAs will be critical for any business to succeed — and even just to remain viable — in uncertain times and a contracting economy.
Ensure you're the success of your Ariba project by tapping into Bayforce's exceptional breadth and depth of experience across SAP products. Let's talk about your roadmap to transportation and logistics management today.