SAP Fiori: 3 Tips to Keep in Mind
By: Bayforce Posted: July 7, 2020 Category:
SAP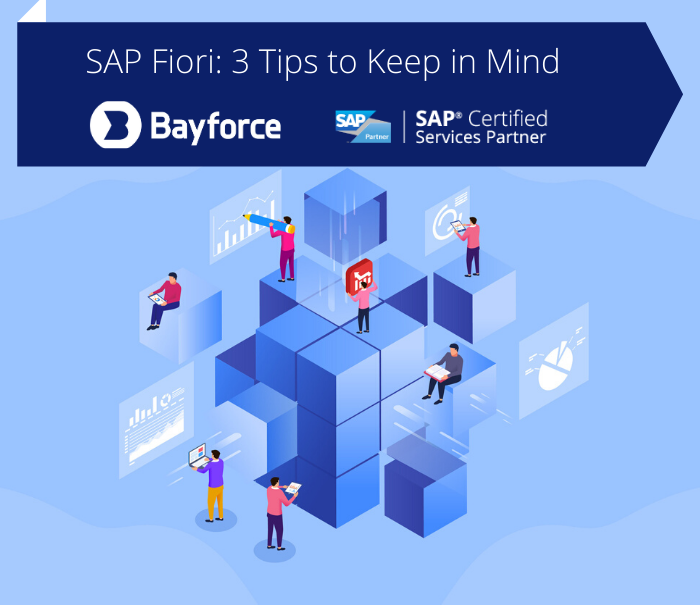 SAP Fiori is the user interface or user experience (UX) that supplements and can replace the SAP GUI. This streamlined application uses tiles to encapsulate standard tasks, such as approving purchase requisitions, viewing sales orders, and approving timesheets.
There's a substantial difference between the SAP GUI and SAP Fiori UX. SAP GUI was cumbersome and difficult to learn, whereas SAP Fiori has more seamless movements and controls with simple, customizable and modern screens.
This is at the bottom of why Fiori delivers a 64% reduction in time required to complete a task.
If your organization is looking to leverage SAP Fiori for increased productivity, here are three tips to keep in mind:  
1. Get clear on intuitive workflows. SAP Fiori is designed around business logic — not SAP logic — and, if implemented correctly, can be leveraged for great gains in your organization's productivity across all teams. 
An "intuitive" workflow, however, can differ slightly from firm to firm — what does it look like for your organization? Getting clear on your team's style of work and existing business processes ensures you can develop easily-adopted business applications that maximize efficiency and support your employees across departments.
2. Skill-up. Your organization can adopt third-party tools or create custom business app solutions. First, check out the Fiori library as it now offers thousands of apps, decreasing the need for firms to build their tools. This is good news for organizations looking to avoid building new software from the ground up. 
At the same time, don't wait for someone to send you to training. Skill up in web technology skills like HTML or Javascript that will aid your understanding of the underlying behavior of custom SAP Fiori applications. Familiarize yourself with browser debuggers and RESTful API's or take SAP courses that will help you lead your team in seamless, rapid app development.
3. Business workflow expertise. SAP provides a complete toolkit for designing, building and deploying Fiori apps, but implementing Fiori as a part of your organization's S/4HANA solution requires workflow and technical capabilities — Bayforce is here to help.
As a partner on your SAP Fiori project, Bayforce can:
Fiori Jump Start Project. With a smaller, defined scope and assumptions, Bayforce solutions experts can have an SAP Fiori application up and running in your environment demonstrating the value to your users and executive team.
Full, Custom Fiori Application Development. Bayforce delivers robust, completely customized solutions in just 7 weeks. From a Fiori 'readiness' review and requirements gathering, to development of application prototype, modification, testing and sign off, we will build you exactly what you want with a fixed cost and timeline helping you get up and running quickly.
Let's talk about how your organization can cut development time and deliver next-generation UX today.