Top Benefits of AWS (Amazon Web Services)
By: Bayforce Posted: September 22, 2020 Category:
AWS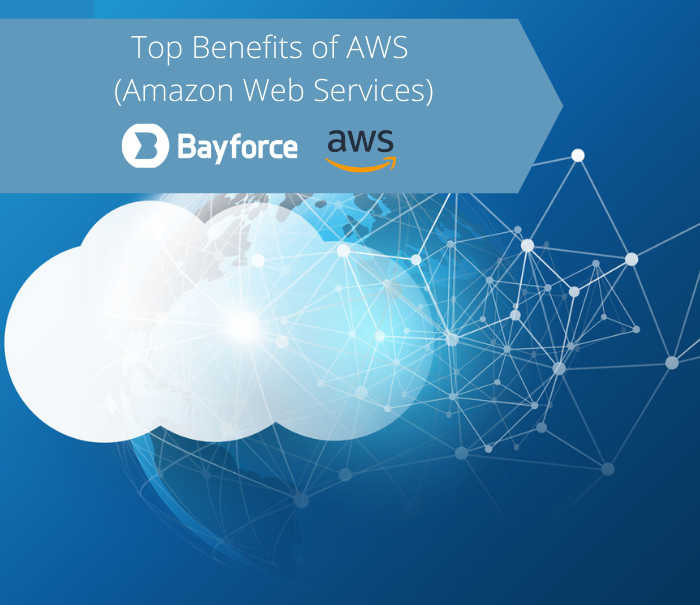 At the end of Q2 2020, Amazon Web Services grew 29% compared to 2019. Amongst several factors, it's clear that the advantages of the cloud have never been aligned with business needs, including cost-effectiveness in combination with the flexibility to scale.
There are a few top players in cloud services including of course Azure and Google Cloud, but as the dominant provider, we thought we'd look at the top benefits for corporations that Amazon Web Services (AWS). Here are the top 5:
1. Comprehensive
The cloud powerhouse offers an abundance of integrations, the largest suite of products and, moreover, AWS has a Partner Network, which is comprised of expert firms that help clients structure, engineer, manufacture, migrate, and deal with their workloads at hand and applications on AWS.
2. Adaptable
Regardless of whether this is the first time that you are moving into the cloud, or moving from another cloud service platform, AWS has every asset you require to enhance your IT framework. Their model helps in scaling assets up or down.
3. Security
AWS has manufactured a world-class, exceptionally secure framework, both physically and virtually. Given below are a few of the features from the safety efforts referenced on AWS site:
• Various geographic districts and Availability Zones enable you to stay flexible even with most failure modes, including system non-fulfillment or natural catastrophes.
• You can enjoy the benefits of Identity and Access Management (IAM) and CloudTrail to hold track of all tasks done by various clients.
• Server centers are staffed 24×7 with a trained security team, and access is approved carefully on a least privilege premise.
• Capacity to design built-in firewall rules from absolutely open to totally private or in some cases, somewhere in between to control access to occurrences.
4. Improved Productivity
Having AWS to back your cloud computing shows excluding the obligations and dangers related to containing interior IT framework. It additionally lessens the requirement for IT support staff and spares your organization the time and expenses in the long haul.
5. Choosing an AWS Partner
Our dedicated AWS team has unmatched focus and experience to bring to your AWS staffing needs—including an unsurpassed talent pool of certified AWS candidates. Organizations benefit from our AWS certified candidates, including enabling participation in the AWS Partner Network (APN).
No matter how niche or how in-demand the expertise your organization requires, Bayforce's reach extends from AWS professionals who maintain key security clearances, to a multitude of AWS Certified candidates.