SAP Solution Manager
SAP's support backbone is the central infrastructure located at SAP to provide technical support to customers. The support backbone consists of several different systems for different purposes – for example, it provides the SAP Support Portal infrastructure, the Maintenance Planner, SAP EarlyWatch Alert Reports, and many more.
SAP's Support Backbone has been updated. The legacy infrastructure remains in place only to allow a safe transition for customers.
The clock is ticking: will you be ready?
SAP Solution Manager 7.2: Mandatory Upgrade
This is not a choice. SAP is requiring customers to upgrade to Solution Manager 7.2 before January 2020 to ensure continuous connectivity to the SAP Support Backbone.
The biggest mistake we see customers make is misaligning time. This is not an overnight job and SAP Solution Manager 7.2 is essential to the adoption, implementation, and operation of all your enterprise solutions.
Upgrade with intelligence. The hidden costs of delaying too long are not ones you want to calculate.
7 Things Your Organization Stands to Lose by Not Upgrading to Solution Manager 7.2
Non-compliance with the mandatory upgrade will result in the inability for customers to engage in core SAP support functions.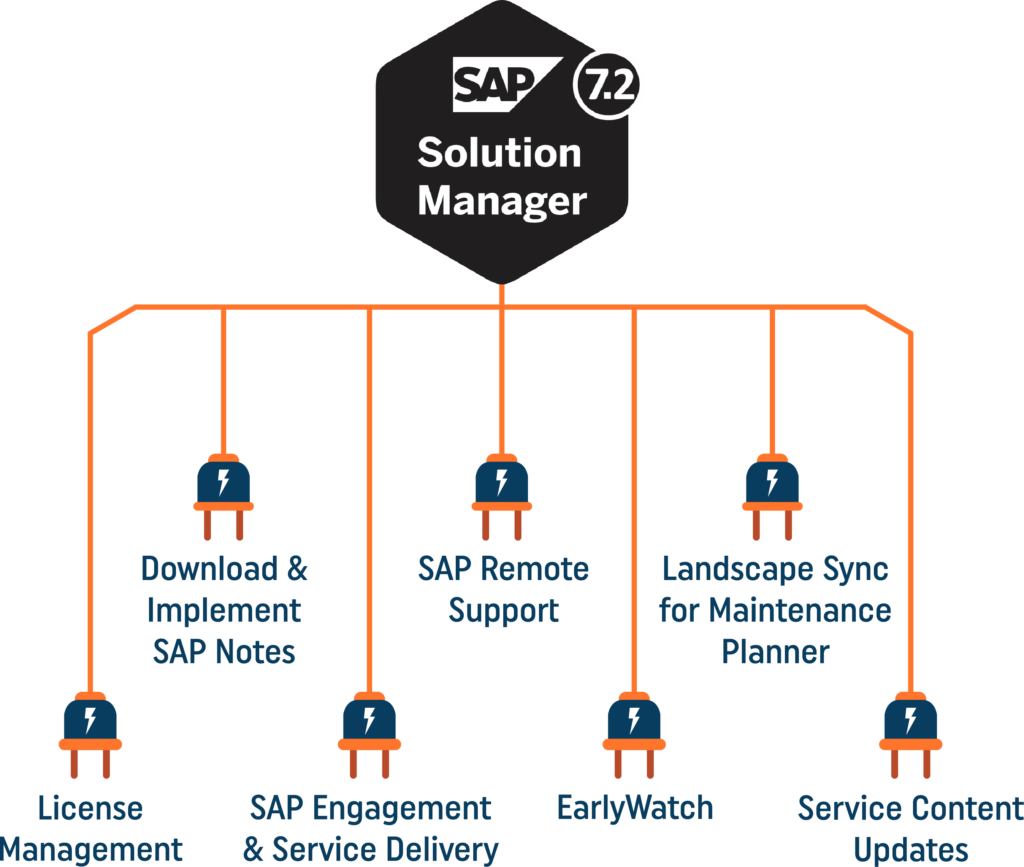 What's In It For You?
While the upgrade to Solution Manager 7.2 is mandatory in order to achieve compliance with SAP support requirements and to ensure no service interruptions, the upgrade also comes with benefits. Your organization can now:
Migrate to the HANA database with no additional license fee and become familiar with HANA administration & operations
Assess preparedness for transition to S/4HANA
Establish the foundational system in place for transition to S/4HANA utilizing the Best Practices, Guided Configuration Tools, and Methodology of SAP Activate supported by Solution Manager 7.2
Why Choose Bayforce for Your Solution Manager 7.2 Upgrade
Many organizations do not have the internal know-how or bandwidth to successfully upgrade/update systems to compliance with SAP support requirements.
Bayforce SAP project teams are comprised of platinum-level experts with unsurpassed SAP expertise. Bayforce is a certified SAP services partner with over two decades of client success and expertise as SAP leaders. We bring value, relentless dedication to customer service, superior project management and a breadth of experience across IT systems that can be the X factor between project success and failure.
We can help:
Assess best option between upgrading existing Solution Manager vs. new installation
Coordinate/manage upgrade or installation project
Perform upgrade/installation of Solution Manager, configuration of system, configuration of managed systems, updates as required on other systems in the SAP landscape
Test and confirm all connectivity & functionality vis-à-vis the new SAP support backbone infrastructure